Inaugural Chicago PuppyUp Walk This Weekend!
(pictured is Tripawds Spokesdog Cadence)
Please join us on Saturday, September 16, 2017 for the inaugural PuppyUp Chicago Walk! Registration begins at 10:00 AM with the Opening Ceremony and Walk beginning at 11:30 AM. This 2-mile walk will take place at the Lincoln Park Picnic Grove 16 at Montrose Beach Harbor with individuals, teams, canine companions, sponsors, vendors, human and veterinary oncologists coming together to promote awareness of canine cancer and raise funds for comparative oncology research to benefit both pets and people.
Won't you join us as our community comes together to memorialize canine and human lives that have been lost and celebrate those who have survived this disease.
Tripawds Spokesdog Cadence is helping out with our Chicago PuppyUp Walk. She's a 6 year Bone Cancer survivor. Visit Cadence's Facebook page to learn more about her.
From Cadence: Last W
ednesday, Mom and I were invited to do an interview for our local news channel talking about my journey with osteosarcoma, Tripawds,  how I came to know Luke Robinson with the Puppy Up Foundation and my six year-long survival on three legs. I was nervous but I sat right next to mom during the whole interview and Luke, the doctors and techs at Premier Veterinary Group of Chicago, and the news anchors were so nice to me. I got to meet a two year survivor named Gizmo who survived cancer of her spleen.
Luke is getting the word out there about our PuppyUp Chicago Walk to help raise money for comparative oncology so please come join us at Montrose Harbor Park in Chicago on the 16th of September! Mom and I will have our Tripawds booth set up to support the Puppy Up Foundation, and get the word out there that life on three legs is great!
Saturday, September 16, 2017
10:00 am – 3:00 pm
Montrose Harbor's Lincoln Park Picnic Grove 16
4400 N. Lake Shore Drive, Chicago IL 60640 (W. Montrose Ave + N. Simonds Dr.)
Registration Opens:       10:00 am
Vendor Fair & Music:      10:00 am
Opening Ceremony:       11:15 am
PuppyUp Walk:              11:30 am
Celebration Ceremony:   12:45 pm
Demos:                         1:30 pm
Pre-Registration until 9/14:          $25
Registration 9/15 & day of event:  $30
Youth (under 14): Free
Registration and ticket information: https://puppyupwalk.org/chicago/
Upcoming PuppyUp Walks From Around the Country
Upcoming Nationwide PuppyUp Walks
We'd love to meet you at a PuppyUp Walk in a city near you!
Even if you can't attend a Walk this year, we hope you'll check out the links below and support a Walk of your choosing. Our Foundation's research goals are funded strictly at the grassroots level, which means research is funded by each individual's participation. The advances we help fund are a direct product of your efforts!
If there's not a Walk in your area and you'd be interested in starting one, please follow this link for more details. Want to help out and volunteer? We can use the help. Check out this link.
9/16/2017 PuppyUp Chicago, IL Lincoln Park Picnic Grove16 at Montrose Harbor, Chicago, IL from 10 AM to 3 PM
9/24/2017 PuppyUp New Paltz, NY at Adair Vineyards, New Paltz, NY 10 AM to 3 PM.
10/01/2017 PuppyUp Memphis, TN at Overton Park, Rainbow Lake Pavilion, Memphis, TN from 12 Noon to 4 PM.
10/01/2017 PuppyUp Des Moines, IA, at Gray's Overlook Terrace, Des Moines, IA from 1 PM to 4 PM.
10/08/2017 PuppyUp CT Shoreline,CT Guilford Fairgrounds, Guilford, CT, from 11 AM to 3 PM.
10/29/2017 PuppyUp Fredericksburg, VA. at Hurkamp Park, Fredericksburg, VA from 10 AM to 1 PM.
11/04/2017 PuppyUp Lake Norman, NC at Daveste Vineyards, Troutman, NC from 10:30 AM to 1:30 PM.
11/04/2017 PuppyUp Little Rock, AR. at MacArthur Park Pavilion, Little Rock, AR from 11 AM to 2:30 PM.
We hope to see you and your pup(s) there!
How To Care for a Three-Legged Dog
(Tripawds dog Wyatt at Eureka)
How to Care for a Three-Legged Dog
A three-legged dog shouldn't be overlooked! Find out how to make life for a tripod dog as happy and healthy as possible.
More veterinarians and dog parents are realizing dogs that lose a limb to cancer, injury or birth defects can survive — and even thrive — on three legs. What's more, three-legged dogs show a resilience and determination that the rest of us can learn from.
If you're facing the heart-wrenching decision of whether to amputate your dog's leg, are considering adopting an amputee dog or come across a dog missing a leg or with a severely injured leg, here are some ways to give tripod dogs a leg up.
What to Do if Your Dog Needs an Amputation
First, keep your pet's best interests in mind. A dog with an injured or cancerous leg isn't worried about looks or long-term impacts; he just wants to feel better. Once the painful limb has been removed, canine patients typically seem much more comfortable, says Dr. Coby Richter, surgeon at DoveLewis Veterinary Emergency and Specialty Hospital in Portland, Ore. Most owners report that their tripod dog resumes his regular activities after one to two months.
"They can be happy on three legs," says Rene Agredano, cofounder of Tripawds.com, an online community which provides information, resources and support to more than 14,000 members. "They adapt so much better than we do, if we were faced with the same type of physical challenge." Agredano and her husband, Jim Nelson, initially started Tripawds.com as a blog to update friends and family when their late dog, Jerry, was diagnosed with bone cancer in 2006.
The Agredanos didn't take the decision to amputate Jerry lightly. But after doing some research (including watching a video of a tripod Great Dane digging for gophers) they felt amputation offered Jerry the best way to enjoy the time he had left. Despite a four-month prognosis, Jerry lived for two more years. The trio spent that time traveling around the country in their RV.
Agredano urges owners not to lose hope. If the cost of surgery is a concern, the Tripawds Foundation (the organization's charitable, nonprofit arm) offers an assistance program that will pay up to $500 toward the cost of an amputation to eligible applicants.
How to Help an Amputee Dog Recover
"Dogs may need help getting up and down for the first few days," says Richter, the veterinary surgeon. "You can wrap a towel under their belly to hoist them up and provide a little extra support as they learn to move and take bathroom trips."
Pave your tripod dog's road to recovery with carpeting or other non-slick surfaces in your home where he can travel safely. Slick surfaces like wood can wreak havoc on a three-legged dog. Limit movement and supervise or crate your tripod dog until he gets his footing back.
Exercise is Extra Important for Tripod Dogs
Making sure your dog maintains a healthy weight is crucial, since added weight strains his remaining limbs, and strengthening the core is key. Playing games with balance discs or wobble boards are great ways to strengthen your dog's stomach muscles.
However, it's also really important not to overdo it. Monitor your tripod dog carefully for signs of fatigue — if he sits down on a walk, he's already gone too far. "One of the most common injuries in a tripod is a cruciate tear in the remaining back leg," Agredano says. "To nurse a tripod through a cruciate tear recovery is very hard work. Whatever you can do to avoid that is super important."
Another way to prevent additional injuries is by establishing a relationship with a veterinary rehabilitation therapist, who will show you how to protect and strengthen your tripod's remaining limbs. To encourage rehabilitation, the Tripawds Foundation will pay up to $200 toward a dog's first consultation with an accredited rehab therapist.
If that's not possible, read up on ways to help your tripod recover (check out Loving Life on Three Legs or Three Legs and a Spare).
(For the complete article, please follow this link to our blog.)
VCA Check Awarded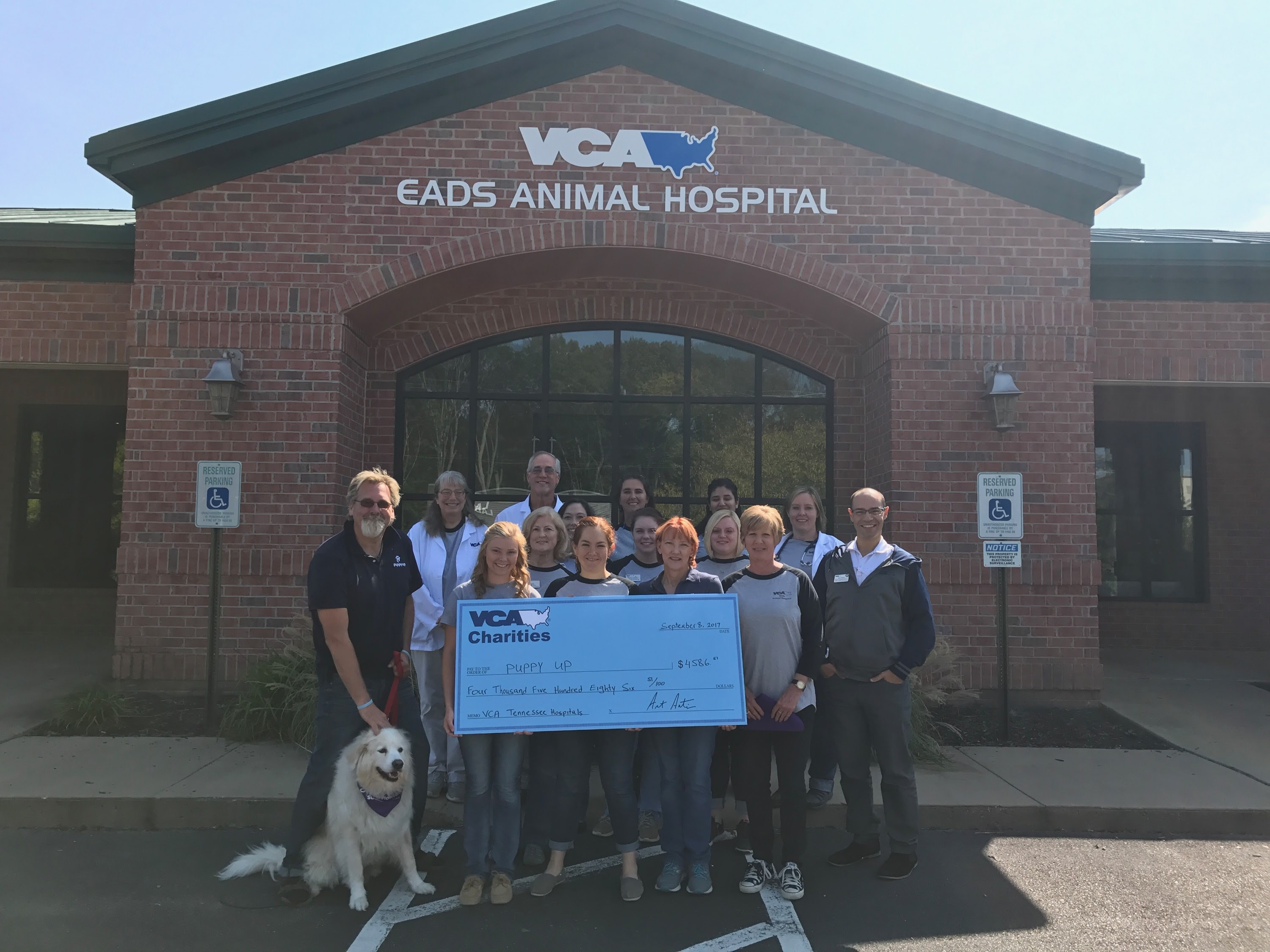 Founder Luke Robinson and Executive Director Ginger Morgan were pleased to be awarded a check from Tom Hazay, Regional Operations Director -GA/TN for VCA Charities. Thanks to the following locations for making this a reality!  VCA Regional Institute for Vet Emergencies and Referrals (Chattanooga, TN), VCA Eads Animal Hospital (Eads, TN), VCA Ragland & Riley Animal Hospital (Livingston, TN), VCA Animal Care Center of Mt. Juliet (Mt. Juliet, TN), and VCA Murphy Road Animal Hospital (Nashville, TN).
Pup of the Month
(Amber, squirrel watching)
Amber Gedek
(by Terri Gedek)  Amber is a Rhodesian Ridgeback mix that enjoys watching squirrels as a pastime.  She has shared her home with foster dogs for the past 10 years.   She entertains them and shows them the way to a better life. She was a rescue herself! She has even helped her mom with a search and rescue of a lost dog.  Now, Amber is fighting for her life as she has a diagnosis of adenocarcinoma cancer in her middle ear. Even though her ear bleeds much of the time, she still enjoys time with her family, getting in the car for a joy ride, and even a little agility!  She especially likes peanut butter and ice cream! Amber also shares her home with another Rhodesian ridgeback and Dalmatian.
Amber was a contestant in our 2011 "Cancer Can't Keep a Good Dog Down" calendar contest.
Disclaimer
The Puppy Up Foundation does not endorse nor recommend any particular product, service, or treatment. We offer information strictly for educational and/or informational purposes. We believe it is the pet owner's responsibility to do the research and draw his or her own conclusions.
We can always use your help. If you're interested, send me an mail at ginger@puppyup.org.
Sincerely,
Ginger Morgan, Executive Director
Puppy Up Foundation 
Save