"Such short little lives our pets have to spend with us, and they spend most of it waiting for us to come home each day." ― John Grogan, Marley and Me.
In This Issue: WHAT? You Haven't Entered the 10th annual "Cancer Can't Keep a Good Dog Down" Calendar Contest Yet?; Hollywood Feed Christmas in July; Recognizing and Treating Heatstroke in Dogs; Research: New Technology to Treat Dogs Facing a Cancer Diagnosis; Pup of the Month.
Today is #PrimeDay! Shop for great deals at Amazon Smile and Amazon will donate to The Puppy Up Foundation.
What? You Haven't Entered the 10th Annual Puppy Up Canine Cancer Calendar Contest Yet! What Are You Waiting For?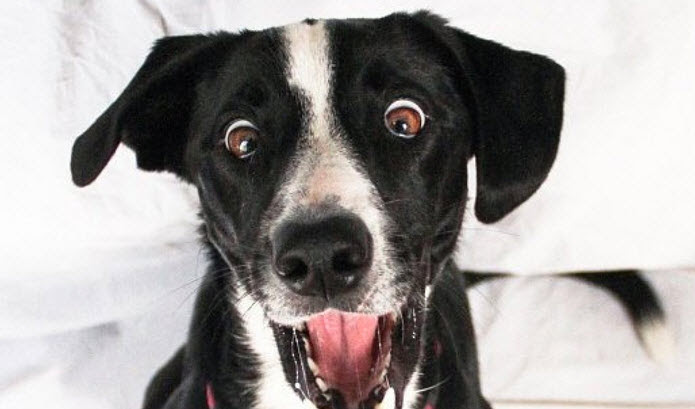 Are you kidding? You haven't entered yet? You haven't voted? What's up with that? Time is running out. All voting ends at 12:00 pm EDT on July 30th.
Seriously — your participation in and voting for contestants is vital to our work, and directly helps us fund the pioneering research we have always sought out and supported. Contributions in the past have helped fund research with: University of Missouri; Purdue University; University of Wisconsin, Madison; University of Texas MD Anderson Cancer Center; Princeton University for The Canine Mammary Tumor Program; Animal Medical Center and Memorial Sloan-Kettering Cancer; as well as Educational Grants to the American College of Veterinary Internal Medicine (ACVIM).
This year, your contributions and donations are going to clinical trials at Missouri and Purdue. (For details on each grant, please follow this link.)
Even as you honor your canine cancer hero by participating in the calendar contest, know you are helping so many others with each vote and each dollar you contribute.
We hope you'll enter your pup today.
HERE is where you register, so you can get started right away. And thank you.
Who can enter? Anyone with a dog who currently has or has had cancer (living or passed).  Dogs who have been entered in prior contests are  welcome to enter again.
How does it work? From now until July 30th, register your dog as a participant in the contest.  Then upload your best high resolution photo (>2 Megs or higher) and your dog's story  (about one paragraph), and how he or she came to be touched by cancer. You'll find all the instructions on how to create your dog's special page during the registration process, but if you have any questions, just email Erich Trapp at: erich@puppyup.org.
Voting begins as soon as you enter. Your $10 registration fee applies as the first 10 votes for your dog. (Votes are only $1.00 each, with a minimum donation of $5.00.) Remember, the sooner you register, the more often you and friends can vote. Don't wait until the last minute!
For ALL the details on registering and setting up your dog's page, please follow this link to our blog.
Still have questions? Email Erich Trapp at: erich@puppyup.org.
(Princess Daisy Best, our first cover dog.)
Hollywood Feed Does It Again — Christmas In July!
It's Christmas in July at Hollywood Feed!
And they have some awesome deals for you, including BUY ONE, GET ONE FREE on Patchwork Toys.
Don't miss the great specials this month on many products from some of their favorite brands including WHIMZEES Dog Chews, Primal Pet Foods, Polkadog Bakery, nootie, Mississippi Made Snoozepads, Mississippi Made Collars, Memphis Made Bowties and Flowers, The Honest Kitchen, Hollywood Feed Wire Crates, Holistic Select, Grandma Mae's Country Naturals, Alcott leashes, and more.
Shop online or in-store!
10% of sales from this offer on Patchwork Pet Toys will be donated to the Puppy Up Foundation. Thank you, Hollywood Feed!
Recognizing and Treating Heatstroke in Dogs
The summer heat can be oppressive even for those of us who love the summer sun. But our dogs are not as efficient at releasing heat as we are; they are built to conserve rather than release heat and tend to heat up faster than we do. As such, we may not be aware of the fact that a dog has become overheated until symptoms suddenly develop. Heat stroke in dogs is a very serious condition and its onset can be sudden, escalating into an emergency situation in a matter of minutes. Knowing how to treat a dog experiencing heat stroke may be vital to saving your dog's life.
Some early signs of heat stroke include:
Excessive or loud panting
Extreme thirst
Frequent vomiting
A bright red tongue and pale gums
Skin around muzzle or neck doesn't snap back when pinched
Thick saliva
Increased heart rate
Be aware of conditions that may cause or exacerbate heat stroke. Dogs that are elderly, obese, or have a history of heart disease or seizures are more likely to suffer from heat strokes and may have a lower tolerance for increased heat.
Dogs with shorter snouts (like Pugs or Bulldogs) have a harder time panting out their body heat, so may be at higher risk.
Certain breeds do not tolerate heat as well as others. Some breeds that should be avoided in areas that have extremely hot climates include:Bulldogs (English and French), Boxers, Saint Bernards, Pugs, and Shih Tzus.
Do not leave a dog in a car. A dog should never be left in a vehicle in the sun, even if the temperature is mild. Even with the windows cracked, the temperature inside a car can increase exponentially in a matter of minutes, often with fatal results for unfortunate dogs.
For the full article, please follow this link to our blog.
Research: New Technology to Treat Dogs Facing Cancer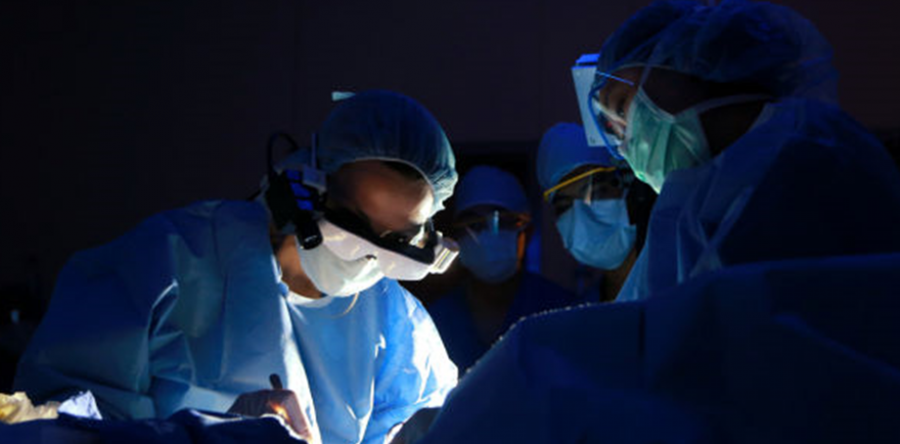 Near infrared goggles guide surgeons during surgery
By: Heather Roberts
Posted: Jul 07, 2017 02:58 PM CDT
Champaign, Ill. (WCIA) – Cancer cells are hard to see.
Surgeons have to remove a layer of healthy tissue to ensure that the entire tumor has been removed.
Recently, a U of I engineer developed high-tech glasses (goggles) that help surgeons visualize cancer cells. The goggles detect radioactive tracers that cause the cancer cells to glow blue.
Dr. Laura Selmic and Dr. Viktor Gruev are collaborating on a clinical trial to help detect cancerous cells in lymph nodes, which are an indication that the cancer may have spread beyond the original tumor in the dog's head or neck.
Clinical Trial:
·    Trial evaluates use of fluorescent sentinel lymph node imaging in dogs
·    Seeking dogs with tumors of the head and neck
·    Sentinel lymph node biopsy is the standard of care in head and neck cancers in human medicine
·    Testing lymph node helps detect cancer spread
To find out more about the clinical trial, contact: Rebecca Kamerer at 217-333-5311
For the video interview, please follow this link.
Pup of the Month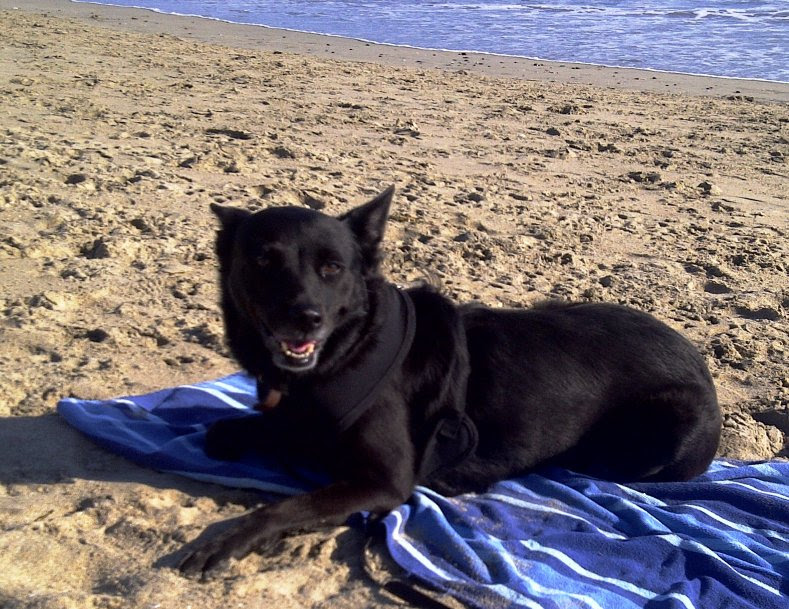 Daggit Thome
Daggit Thome
(by Nicole Thome) Daggit was adopted as a 9-week old pup at a rescue in Colorado. She loved hiking in the mountains, catching tennis balls and playing at dog beach.  Always an active girl, Daggit was the picture of health until she was diagnosed with Osteosarcoma in August 2009 at 8-1/2 years old.
Through 25-months, two surgeries, chemo, clinical trial and a septic infection, Daggit continued to amaze me.  Cancer couldn't keep her down, that's for sure!  She had such a strong will to live.  I always viewed her illness as living with cancer, not dying of it.  She never knew she was sick.  We were a team.
Sadly, Daggit's fight with cancer ended on September 20th, 2011 – just a month shy of her 11th birthday.  Mets quickly took over her lungs and spread to her spleen.  I helped her cross the Bridge where she's now in peace and cancer-free.   Godspeed, sweet girl!  Vegas and I miss you deeply.
(Daggit was a contestant in the 2013 Cancer Can't Keep a Good Dog Down calendar contest.)
Disclaimer
The Puppy Up Foundation does not endorse nor recommend any particular product, service, or treatment. We offer information strictly for educational and/or informational purposes. We believe it is the pet owner's responsibility to do the research and draw his or her own conclusions.
We can always use your help. If you're interested, send me an mail at ginger@puppyup.org.
Sincerely,
Ginger Morgan
Puppy Up Foundation